Contact lenses offer versatile vision correction with the freedom to go frame-free in everyday life. With so many different contact lens options available, it might feel overwhelming to determine which type of lenses are best for you—and that's where your eye care professional comes in.
Whether you're a first-time contact lens wearer or have worn them for years, you will require a contact lens fitting prior to getting a new set of lenses. Your eye doctor will need to examine your eyes to first determine if you're eligible for contact lenses. During a contact lens fitting, your eye doctor will take into consideration factors including your eye health, vision needs, and lifestyle to determine what contact lenses will best fit your specific needs.
It is important to keep in mind that contact lenses are a medical device and should always be prescribed by an optometrist. You should consult with your eye care professional prior to wearing new contact lenses.
Why Do I Need a Contact Lens Fitting?
Contact lenses are not a one-size-fits-all device. During a contact lens fitting, your optometrist will evaluate your contact lenses to ensure proper fit and prescription accuracy. If you're a first-time contact lens wearer (or it's been a while since you've worn contacts), this exam also provides an opportunity for your eye care team to educate you on how to properly wear and care for your contacts.
Contact lenses sit directly on your eye. Because of this close proximity, improperly fitting contact lenses or lenses that are not properly cared for can easily cause damage to the surface of your eye. This can include problems like corneal abrasions and eye infections.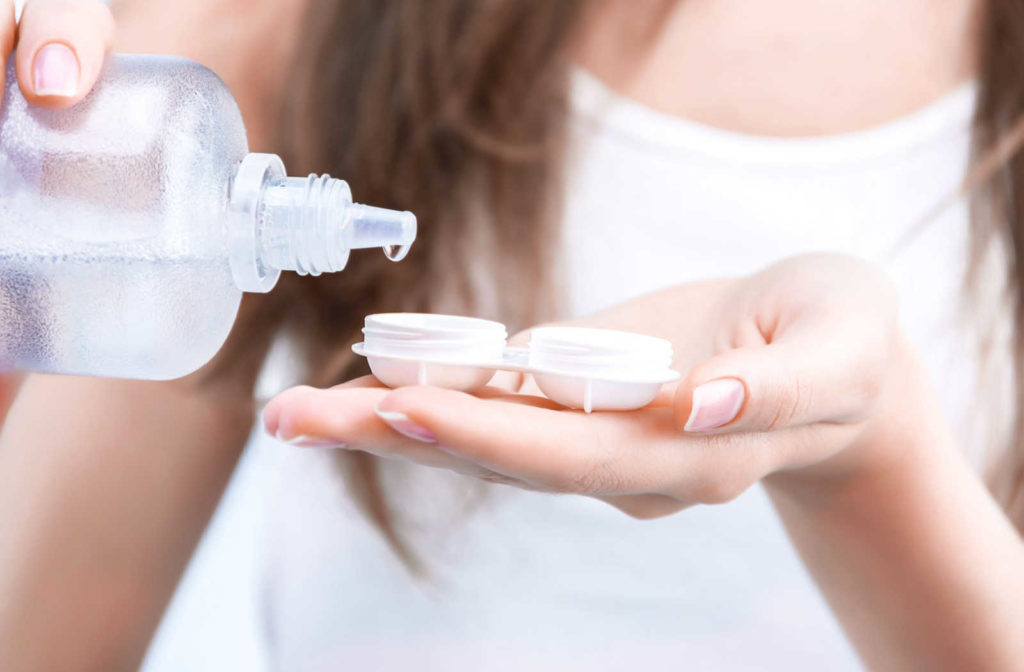 At Your Appointment
At a contact lens exam and fitting, your optometrist is checking for more than just the fit of your contact lenses. There are a few different aspects of contact lens wear that your optometrist will evaluate during a contact lens fitting.
Eye Health
Prior to prescribing contact lenses, your optometrist will need to evaluate your eyes to determine if you're eligible to wear contact lenses. Your eye doctor will check for any conditions that may impact your ability to wear contact lenses, such as dry eye or allergies.
Your eye doctor will also need to evaluate the health and shape of your cornea, as your contact lenses will sit on top of your cornea. Corneal diagnostic tests may include:
Pentacam: This technology performs a precise measurement and analysis of the center of your cornea. In less than 2 seconds, it produces high-definition images that are put together to create a 3D model of your anterior eye chamber.
Corneal Topography: This is a diagnostic tool that provides a 3D map of the surface of your cornea. This test can be used to identify any irregularities in your cornea's shape that may influence contact lens wear. This may include a variety of eye conditions, including astigmatism and keratoconus.
Optical Coherence Tomography (OCT): This is an imaging technique that uses light waves to take cross-sectional images of your retina and cornea. The test allows your eye doctor to examine the layers of your retina and cornea to detect signs of eye disease.
By properly evaluating your eyes at a contact lens fitting, you can help prevent contact lens-related eye problems and ensure optimal contact lens wear.
Proper Fit
During your contact lens fitting, your optometrist will take measurements to help you get the best-fitting contact lenses for your unique eyes. This will include making sure that your lenses are comfortable and remain in place on your eye. An ill-fitting contact lens can cause discomfort, blurred vision, and even damage to your eye.
Prescription Accuracy
In addition to proper fit, your eye doctor will check to make sure your contact lenses are an accurate prescription. It is important to note that a contact lens prescription is not the same as an eyeglass prescription, and you should never purchase contact lenses without getting a prescription from your optometrist.
Education
A contact lens fitting provides an opportunity to learn how to properly care for and handle your contact lenses. Your eye care team can give you instructions on how to insert and remove your lenses, how to clean and store them, and how often to replace them.
Proper contact lens care is absolutely essential to maintaining healthy vision while wearing contact lenses and preventing eye damage and infections.
Preparing for Your Appointment
Before you even start the contact lens fitting process, you will require an up-to-date eye exam. During a regular eye exam, your optometrist will conduct a complete examination of your eye health and vision. If it has been more than a year or two since your last eye exam, you will likely need a regular eye exam prior to a contact lens fitting.
If you have already been thinking about contact lenses for a while, then you might already have a type or brand of contacts in mind. It's a good idea to think about how contact lenses will fit into your lifestyle, and if there are any specific activities you would like them for. Your eye doctor may ask these types of questions during a contact lens fitting to ensure that you get the best lenses for your vision and lifestyle needs.
Book Your Contact Lens Fitting
If you're interested in getting contact lenses, the first step is to contact your eye doctor's office. The team at Perspective Eye Center is here for all of your vision care needs, including contact lens exams and fittings.