Contact Lens Care
Contact lenses can be a convenient alternative to prescription eyeglasses. No worries about your frames slipping during sports or peering through fingerprints and smudges. Although there are plenty of fantastic-looking eyeglasses options, your kid may feel drawn to contact lenses.
But are contact lenses a good fit for kids?
Contact Lenses for Kids
Contact lenses are available for every age group, including infants. There is no minimum age for contact lenses. However, contact lenses for infants and toddlers are typically used for therapeutic purposes, such as correcting amblyopia (lazy eye). Generally, optometrists recommend kids can start wearing contacts between 10–12.
Kids' eyes can tolerate any contact lens type. Typically, children under 12 are prescribed daily disposable soft contact lenses. Although rigid gas permeable (RGP) contacts are more durable and generally offer crisper vision, soft contacts can be easier to adjust to—for kids and adults.
Daily disposable lenses require the least amount of lens care, as a new pair is worn daily and discarded after wear. Using a fresh pair daily also reduces the risk of protein buildup or contamination. On the other hand, RGP contacts or extended-wear soft contacts have higher hygiene demands, including cleaning before being worn.
When your child expresses interest in wearing contacts, their optometrist can help evaluate if soft or RGP contacts may benefit them.
Myopia Control
Contact lenses are a standard method used in myopia control to help slow the progression of myopia. Myopia(nearsightedness) is a vision condition causing blurry distance vision. High myopia increases the risk of developing eye problems, including cataracts, glaucoma, and myopic macular degeneration.
Examples of contacts lenses for myopia include:
Orthokeratology (ortho-k) uses specialty contact lenses to reshape the cornea. The RGB contact lenses are worn overnight, resulting in corrected vision during the day.
Multifocal contact lenses slow the progression of myopia by controlling how peripheral light is refracted inside the eye. They also improve visual acuity while being worn. Multifocals for myopia are available as daily disposable soft contact lenses.
Sports Contact Lenses
Although there are specialized eyeglasses options for sports, including impact-resistant polycarbonate lenses, contact lenses still have a few advantages for physical activity. For example, glasses lenses can shift after a bump or fog during humid weather.
Sport contact lenses can provide better peripheral (side) vision and remain stable when your child is active. For example, ACUVUE OASYS with Transitions adapts to changing light, reducing glare and blocking UV rays.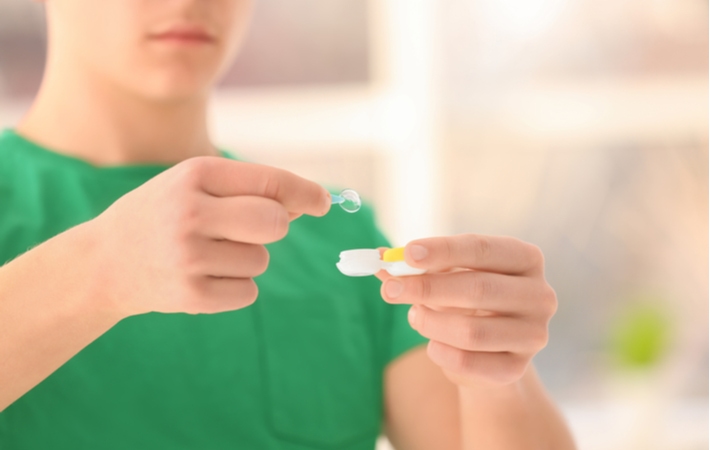 A Good Candidate for Contacts
Just like adults, not every kid is a good candidate for contact lenses. So when a parent is considering contacts for their child, it helps to ask a few key questions:
Does my child have good personal hygiene habits?
Does my child handle responsibilities well?
Is my child highly motivated to wear contact lenses?
What are the advantages & disadvantages of contact lenses?
Parents may be responsible for contact lens care for younger children, including toddlers. However, even younger kids must learn certain habits, like avoiding rubbing their eyes or picking at the lens. Additionally, personal hygiene is essential for preventing risks associated with contact lens wear.
A study published in Pediatrics (from the American Academy of Pediatrics) examined adverse medical device use leading to emergency room visits. Contact lenses were the most common, accounting for 23% of cases. The problems caused by contacts can range from eye infections to corneal abrasions.
Kids highly motivated to wear contact lenses can adapt quickly and are typically good candidates. Contact lenses can boost self-esteem and improve vision for sports. Additionally, contact lenses worn for therapy, such as myopia control, can benefit long-term eye health.
It's best to talk to your optometrist about the advantages and disadvantages of contact lenses for your child. Then, your optometrist can give recommendations based on their unique eye health and vision needs.
Contact Lens Safety Tips
When a parent and eye care professional determine a child is a good candidate for contact lenses, they'll be taught crucial safety and care tips. Practicing contact lens care and proper eye hygiene can improve how your lenses function and protect eye health.
Your child's optometrist can provide detailed instructions on caring for and wearing their lenses. Here are some common contact lens safety tips:
Avoid sleeping in your contact lenses (unless instructed, such as ortho-k).
Always wash your hands before cleaning or inserting your lenses.
Clean your contact lenses as directed with the products or solutions recommended by your eye care professional.
Don't wear someone else's lenses (even if the prescription seems similar).
Have backup eyeglasses ready in case your eyes need a break!
Never use water or saliva to clean or wet your contact lenses.
Never put a contact lens into a red or irritated eye. If your eye is burning, itching, or stinging, remove your lenses and talk to your optometrist.
Contact Us for Kids Eyecare
When your child is curious about contact lenses, talk to the eye care professionals at Perspective Eye Center. Our team is passionate about helping our patients achieve clear, comfortable vision. We use our out-of-the-box thinking to provide personalized eye care for the whole family. Contact us today!